Interior Car Detail
Book your interior car detail today – From £75.00
---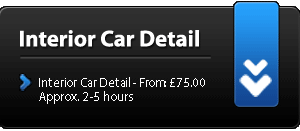 Interior detail is designed to deep clean and protect the interior of your vehicle. The whole interior is fully vacuumed, upholstery & leather deep cleaned and conditioned, all plastic/wood/chrome and other surfaces are cleaned, polished and protected ensuring that inside of your car looks and feels as great as the outside.
What's included?
Door and boot shuts cleaned and dressed. 
Empty and clean ashtrays, glove box and door pockets
Thoroughly vacuum all seats, carpets, mats, under seats, boot area and spare wheel compartment
 Clean and dress all interior plastic, centre console & dashboard
 Interior chrome & wood is cleaned, polished and protected
Vacuum and dust air vents, clean with soft brush
 Shampoo all fabric seats, carpets, mats & doors upholstery (by hand & extraction machine)
 Headlining dry foam cleaned
 Leather interior cleaned and carefully conditioned
 Windows polished inside. Air freshener sprayed
Please note that all prices shown are for guidance only, as no two detailing commissions are the same. Price dependent on size, condition and model of the vehicle.
Optional Car Detailing Services
---
Interior detail from £75.00
Wax upgrades: Zymol 25.00, Glasur: £45.00
Engine bay detail from £55.00