Car Engine Valeting & Cleaning
Specialist Engine Valeting Service
---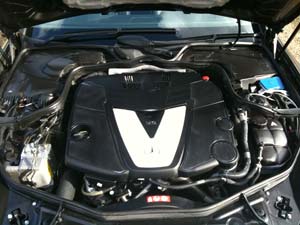 Engine valet is offered only as add on service to our Exterior, Full Valet or Valet Plus
Price starting from £30
Engine valeting is a specialised service and should be only done by experienced professionals.
We do engine valeting in the safest possible way. We spray the whole engine with special degreaser which is left to work for a few minutes.
Once degreaser has broken down most of the grease and dirt we then use a soft bristle brush and agitate all parts of the engine.
Engine bay and hood are then rinsed with low pressure and dried with soft towels.
All plastic covers are dressed with non-silicone dressing.
Please see our mini engine valeting gallery below. Click on any of the images below to see larger and more detailed images. You can find more valeting and detailing images on our portfolio page and also on our Facebook page.