Soft Top / Convertible Roof Restoration
Comprehensive Soft Top Cleaning and Colour Restoration Service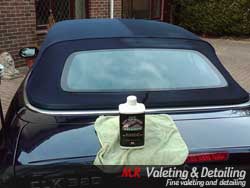 Convertible/Soft top hoods are hard to keep clean and when not maintained they age and fade very quickly.
Fabric hoods attract moss and mould, while the plastic rear windows often fitted on cabriolet vehicles can become cloudy and scratch easily. This can significantly reduce the overall pleasant appearance of your vehicle as well as your own driving pleasure.
Using special cleaners and bespoke brushes, we can provide a moderate yet effective treatment for your soft-top to leave it looking cleaner and refreshed.
 

Standard price

 

Soft top deep cleaning & waterproofing: 
Small: £125
Medium: £145
Large: £165
20% off Full Valet or Valet Plus with soft top work
Soft top deep cleaning, waterproofing and recolouring:
Small: £195
Medium: £225
Large: £245
20% off Full Valet or Valet Plus with soft top work
Soft-top reviving and recolouring
Faded fabric roofs can be restored using Soft Top Reviver, a specially formulated liquid coating for fabric tops which can restore about 70-80% of the roof's original colour to deliver a 'like-new' appearance.
This service also works well as pre-sale preparation for vehicles to help increase its value. Soft-top reviver is available in black, blue, brown and green.
---
Ultra-proofing, restoring the protective surface barrier
Most new soft-tops (fabric or vinyl) are usually chemically treated at the time of manufacturing to repel water and stain such as bird droppings and tree sap. Over time and with exposure of the roof to the elements, causes the protecting layer to gradually diminish, consequently leaving it vulnerable to pre-mature fading and staining.
This service will re-establish the original 'as new' waterproof weather barrier of your convertible top
Soft top/convertible sizes:
Small: 2 seater cars
Medium: 2+ (2 seater with bench seat)
Large: 4 seater cars